Welcome to Neglected Nerd News, a semi-regular roundup of stories that might have slipped under the radar but deserve some attention.
This week we have more tragedy surrounding Zelda and Robin Williams, a porn problem at Jezebel, new casting for "Powers," a new game from the amazing folks at Bioware, Warner Brothers finally comes up with a name for "Edge of Tomorrow" that doesn't suck (three months too late), the new host of "The Late Late Show," and finally a dancing Baby Groot will melt all the sad away from the supreme crappitude that was much of the last week.
Zelda Williams gets trolled, quits social media.
I hope during the outpouring of awesome tributes you got to see these ads starring Zelda and Robin Williams, who loved the game "The Legend of Zelda" so much he named his daughter after it.
Welp, the Internets are filled with a lot of awful, awful people who decided to torment the Williams family this week amidst their grief (and no, I'm not just talking about that stupid Matt Walsh blog). So these paragons of awesome decided to inundate Zelda Williams via Twitter with photoshopped pictures of corpses with her dad's face on them. Classy.
Zelda did what any sane person would do: quit social media. We at BSR are incredibly sorry for the Williams family and their loss (read Scarlett Robotica's touching In Memoriam here) and this is just outrageous.
Where is Anonymous when we need them to be the vigilantes of the internet, to find these trolls and out them? Oh that's right. They were too busy outing the wrong police officer in the Michael Brown shooting. Hey, Props to Operation Ferguson and the good work that it did, but that was a huge mistake. We Are Legion. We Don't Forget. We Don't Forgive. But we occasionally royally screw the pooch. As freshly indicted Texas Governor Rick Perry might say, "Oops."
The rape porn problem at Jezebel
Gawker media has been forcing the all-female staff at Jezebel to moderate the comments on their site, which has recently seen a huge influx of trolls who think it's funny to post explicit GIFs of rape porn on articles about feminism. That'll show 'em for sure!
This means, yes, that they are being forced to look at explicit, graphic porn depicting violence and rape specifically. This is incredibly ironic because if a manager forced their employee to look at violent porn it would be grounds for sexual harassment. So, not cool. Again, score one for the trolls.
Late Late Show casts James Corden (who?!?!?)
There's a new era of Late Night. Fallon and Kimmel are locked in, and with Colbert set to replace Letterman at the end of the year, it looks like CBS will change up the host of Late Late Show that follows. I've really enjoyed Craig Ferguson on the show (and his robot sidekick) but it looks like he will be replaced by James Corden. Don't have any idea who he is? You're not alone.
Corden is likely to have a breakthrough performance as The Baker in this December's theatrical release of "Into the Woods." Those familiar with the Sondheim musical know that The Baker is the driver of much of the story of mixed up fairy tales, and provides much of the heart, especially in the second act. If you saw this summer's "Begin Again" with Mark Ruffalo and Keira Knightley, (and you really should have-- it was one of the best movies of the summer) Corden was the charming British best friend. He's also in a great British series "The Wrong Mans" currently streaming on Hulu. It's like mixing the humor and fun of the Cornetto Trilogy with a Hitchcock story of mistaken identities.
Go check out Corden on Hulu or in "Begin Again," get ready for "Into the Woods," and then show all your friends how in-the-know you are when he starts on the Late Late Show in January 2015.
"Powers" casts Eddie Izzard
We're excited for "Powers," based on the Brian Michael Bendis comic book and set to debut on the Playstation Network. And Sony has announced Izzard will be playing "Wolfe," the big bad of the first season. This makes me even more excited for this show.
Speaking of exciting. . .
Bioware announces new PC-based RPG
Are you a fan of Mass Effect, Knights of the Old Republic, Dragon Age, or Neverwinter Nights? Well, good news! Bioware is slated to release a new, modern set RPG called Shadow Realms.
The game will emphasize online, squad-based play of four players versus a single NPC enemy, and the main campaign will be released episodically. Sound like fun? You can sign up for the alpha here.
ZOMG!1!!1 PUPMKIN SPICE!!!
Just like the stores keep trying to put the Christmas displays up earlier and earlier, Starbucks just announced they will release the kraken of the pumpkin spice latte on August 25. That's pushing pumpkin spice from being the nectar of the Fall Halloween and thanksgiving season to being pushed all the way to back-to-school and Labor Day.
Which is geek related news only because I know geeks love coffee (or any beverage that gives them precious caffeine), and I have this awesome Game of Thrones meme:
"Edge of Tomorrow" gets new title
This is the best movie of of the summer with the worst, least memorable, least descriptive title, especially when the source material's title was "All You Need Is Kill." Well, now Warner Brothers has decided to finally try to fix things. If you go search on iTunes of "Edge of Tomorrow" you will find something called "Live. Die. Repeat: Edge of Tomorrow" and promotional material with the words "edge of tomorrow" in relatively smaller type next to the words "Live. Die. Repeat."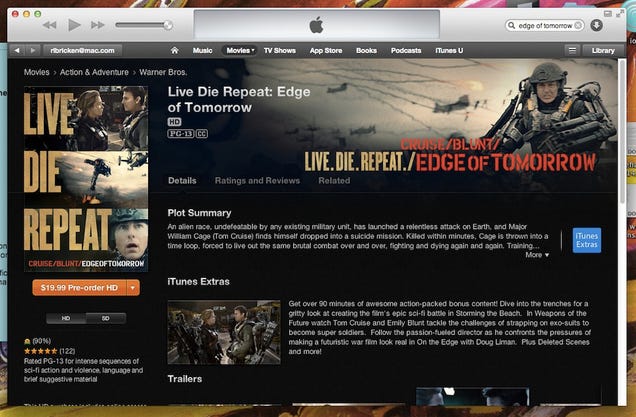 Speaking of video games:
Sega to settle class action suit over Aliens: Colonial Marines
Were you disappointed over "Aliens: Colonial Marines"? Sure, we all were. "So why don't you make a federal case out of it?" Well, a couple people did, a class action suit pointing out that the game that was demo'd and advertised by Sega was not the game that was released. If you purchased the game, you can get up to the cost you bought it for as part of the $1.25 million settlement. There's more details here, including why Gearbox isn't settling but continues to say it's not their fault. (They're right-- it was Sega's fault for promoting their game in a false manner.)
AND Now. . . Dancing Groot!!!
The supreme crappitude of the news of this week was made better by this. Ooooh, child, things are gonna get easier. If you watch this on a continuous loop.
We'd especially like to thank friend of the site Jesse Hildreth, who worked on the SFX lighting on this scene and others in "Guardians of the Galaxy." He also worked on four and a half seasons on "The Clone Wars." Respek. And thank you for bringing this joy to our lives.
See you next week.
Previous Post: CIA Spy Program Actually Called 'Hydra'? Not cool.
Next Post: Jenna Louise Coleman Leaving 'Doctor Who'
Tags: Groot , Robin Williams , Bioware